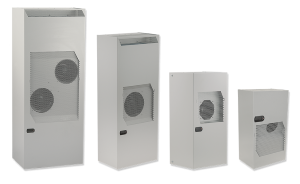 ComPact Series
Economical Enclosure Cooling
Reliability and user friendliness are the best ways to describe the electronic controller being used in the ComPact air conditioners. The display indicates temperature and operating status and can be easily set and adjusted by the user via a Touch Pad.

ComPact air conditioners have a cooling capacity range from 1,090 BTU/hr up to 13,660 BTU/hr with simple operation. All ComPact units have a powder coated mild steel housing (RAL 7035). For applications where hygiene and corrosion protection are required, we offer a stainless steel cover for all ComPact models. Air conditioners with a cooling capacity of 1,700 BTU/hr and above can be optionally supplied with an electric condensate evaporator. For optional filter media for the ComPact Line see the Air Conditioner Accessories page.
For more information on the ComPact Series of enclosure air conditioners, download the brochure.
Click a category to view accessories for ComPact Air Conditioners:
Click on model number to view that unit's performance curve.
| Model | BTU/hr | Voltage & Phase | Running Amps | Operating Temperature Range (°F) | Dimensions (in.) (h x w x d) | Mounting | Data Sheet | CAD Package | Manual |
| --- | --- | --- | --- | --- | --- | --- | --- | --- | --- |
| 43040001 | 1,230 | 230 | 1.9 / 2.0 | 50 - 131 | 19.69 x 11.02 x 7.87 | External | | | |
| 43041001 | 1,230 | 120 | 4.4 | 68 - 131 | 19.69 x 11.02 x 7.87 | External | | | |
| 43042001 | 1,230 | 400 / 460 2~ | 1.1 / 1.0 | 68 - 131 | 19.69 x 11.02 x 7.87 | External | | | |
| 43050001 | 2,120 | 230 | 2.1 | 68 - 131 | 25.6 x 12.4 x 10.2 | External | | | |
| 43051001 | 2,120 | 120 | 4.4 | 50 - 131 | 25.6 x 12.4 x 10.2 | External | | | |
| 43052001 | 2,120 | 400 / 460 2~ | 1.4 / 1.2 | 50 - 131 | 25.6 x 12.4 x 10.2 | External | | | |
| 43090001 | 3,000 | 230 | 3.0 / 3.2 | 50 - 131 | 25.6 x 12.4 x 10.2 | External | | | |
| 43091001 | 3,000 | 120 | 6.4 | 50 - 131 | 25.6 x 12.4 x 10.2 | External | | | |
| 43092001 | 3,000 | 400 / 460 2~ | 2.0 / 1.8 | 50 - 131 | 25.6 x 12.4 x 10.2 | External | | | |
| 43100001 | 3,680 | 230 | 3.2 | 50 - 131 | 25.6 x 12.4 x 10.2 | External | | | |
| 43101001 | 3,690 | 120 | 6.7 | 50 - 131 | 25.6 x 12.4 x 10.2 | External | | | |
| 43150001 | 5,560 | 230 | 4.6 / 5.1 | 68 - 131 | 38.6 x 15.5 x 10.2 | External | | | |
| 43151001 | 5,560 | 120 | 9.6 | 50 - 131 | 38.6 x 15.5 x 10.2 | External | | | |
| 43152001 | 5,560 | 400 / 460 2~ | 2.9 / 2.5 | 50 - 131 | 38.6 x 15.5 x 10.2 | External | | | |
| 43200001 | 6,820 | 230 | 5.5 / 6.5 | 50 - 131 | 38.6 x 15.5 x 10.2 | External | | | |
| 43201001 | 6,830 | 120 | 11.2 | 50 - 131 | 38.6 x 15.5 x 10.2 | External | | | |
| 43202001 | 6,820 | 380 - 415 3~ / 400 - 460 3~ | 3.1 / 2.7 | 50 - 131 | 38.6 x 15.5 x 10.2 | External | | | |
| 43250001 | 8,560 | 230 | 3.9 / 5.3 | 50 - 131 | 48.4 x 19.7 x 13.4 | External | | | |
| 43251001 | 8,540 | 120 | 8.7 | 50 - 131 | 48.4 x 19.7 x 13.4 | External | | | |
| 43252001 | 8,560 | 400 / 460 2~ | 2.9 / 2.6 | 50 - 131 | 48.4 x 19.7 x 13.4 | External | | | |
| 43300001 | 10,240 | 230 | 5.6 / 7.6 | 50 - 131 | 48.4 x 19.7 x 13.4 | External | | | |
| 43301001 | 10,240 | 120 | 15.3 | 50 - 131 | 48.4 x 19.7 x 13.4 | External | | | |
| 43302001 | 10,240 | 380 - 415 3~ / 400 - 460 3~ | 2.1 / 2.3 | 50 - 131 | 48.4 x 19.7 x 13.4 | External | | | |
| 43400001 | 13,650 | 230 | 8.9 / 10.2 | 50 - 131 | 48.4 x 19.7 x 13.4 | External | | | |
| 43402001 | 13,650 | 380 - 415 3~ / 400 - 460 3~ | 2.9 / 2.7 | 50 - 131 | 48.4 x 19.7 x 13.4 | External | | | |