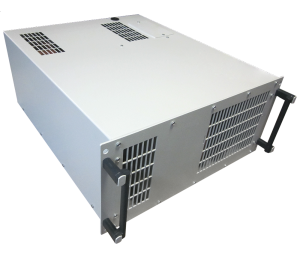 Cooling Solutions for 19-in. Racks
Seifert compressor air conditioners and heat exchangers for 19-inch rack applications are available with cooling capacities from 1,900 BTU/hr up to 3,400 BTU/hr. They are suitable for cooling of IT, telecom server and other enclosures and are completely filterless and therefore virtually maintenance free.
Click on model number to view that unit's performance curve.
| Model | BTU/hr | Voltage & Phase | Air Vol. Flow - Ambient System / Unimpeded (cfm) | Air Vol. Flow - Cabinet System / Unimpeded (cfm) | Running Amps | Operating Temperature Range (°F) | Finish | Dimensions (in.) (h x w x d) | Data Sheet | CAD Package | Manual |
| --- | --- | --- | --- | --- | --- | --- | --- | --- | --- | --- | --- |
| 45330001 | 1,940 | 230 | 104 / 324 | 156 / 265 | 2.1 / 2.1 | 68 - 131 | RAL 7035 | 8.74 x 19.01 x 21.61 | | | |
| 45340001 | 3,170 | 230 | 147 / 500 | 165 / 324 | 4.5 / 4.3 | 68 - 131 | RAL 7035 | 10.47 x 19.01 x 21.61 | | | |
| 2192000 | 3,400 | 230 | - | 105 / 368 (system) | 1/0.4 start/max | 34 - 162 | RAL 7035 | 2U x 17.44 x 16.06 | | | |
| 2192100 | 3,400 | 120 | - | 105 / 368 (system) | 2/0.8 start/max | 34 - 162 | RAL 7035 | 2U x 17.44 x 16.06 | | | |
| 2194000 | 6,830 | 230 | - | 217 / 241 (system) | 2.5/0.45 | 34 - 162 | RAL 7035 | 4U x 17.44 x 19.88 | | | |
| 2194100 | 6,820 | 90 - 265 | - | 217 / 241 (system) | #/0.6 (start/max) | 34 - 162 | RAL 7035 | 6.89 x 17.44 x 19.88 | | | |
| 21970001 | 7,170 | 230 | - | 200 / 280 (system) | 2/0.6 (start/max) | 34 - 162 | RAL 7035 | 4U x 17.44 x 21.42 | | | |
| 2197100 | 8,360 | 120 | - | 200 / 280 (system) | 4/1.2 (start/max) | 34 - 162 | RAL 7035 | 4U x 17.44 x 21.42 | | | |