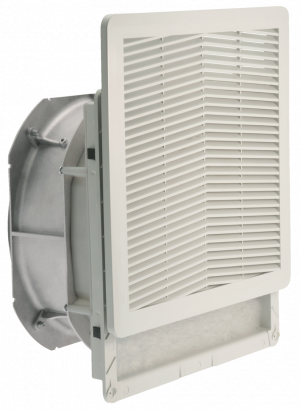 Filter Fans, Exhaust Filters & Hoods
Seifert filter fans feature a robust plastic-molded design with various AC and DC voltage options for power. All filter fan cutout dimensions comply with the market standards. UL listed filter fan packages include IP54 standard version, IP55 and EMC as well as UL type 12 and UL type 3R.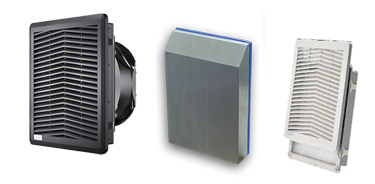 Integrated air filters at your system's inlet and outlet ensure that the cabinet remains clear of dust and any other contaminating airborne particles. Mounting our fans into the cutout is a very quick procedure and requires no tools. When necessary, the filters are also easily replaceable.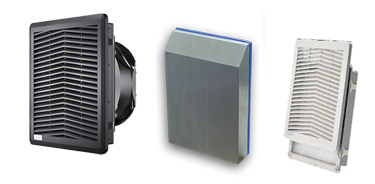 For more information on our Fans and other Accessories, download the brochure.
Click on model number to view information specific to that unit.
| Model | Air Vol. Flow Unimpeded (cfm) | Dimensions (in.) (h x w x d) | Description | Data Sheet | CAD Package | Manual |
| --- | --- | --- | --- | --- | --- | --- |
| 400000000 | - | 4.2 x 4.2 x 0.9 | Exhaust filter | | | |
| 400010000 | - | 5.91 x 5.91 x 5.91 | Exhaust filter | | | |
| 400020000 | - | 8.03 x 8.03 x 1.16 | Exhaust filter | | | |
| 400030000 | - | 9.84 x 9.84 x 1.33 | Exhaust filter | | | |
| 400040000 | - | 12.80 x 12.80 x 1.34 | Exhaust filter | | | |
| 40000000E | - | 4.19 x 4.19 x 0.91 | EMC exhaust filter | | | |
| 4000100E | - | 5.9 x 5.9 x 1.15 | EMC exhaust filter | | | |
| 4000200E | - | 8.02 x 8.02 x 1.16 | EMC exhaust filter | | | |
| 4000300E | - | 9.84 x 9.84 x 1.33 | EMC exhaust filter | | | |
| 4000400E | - | 12.80 x 12.80 x 1.33 | EMC exhaust filter | | | |
| 4010A4000 | 7/9 | 4.2 x 4.2 x 2.6 | Filter Fan | | | |
| 4010A3000 | 9 | 4.2 x 4.2 x 2.6 | Filter Fan | | | |
| 4010A4100 | 9/12 | 4.2 x 4.2 x 2.6 | Filter Fan | | | |
| 4010A3100 | 12 | 4.2 x 4.2 x 2.6 | Filter Fan | | | |
| 4010D1000 | 9 | 4.2 x 4.2 x 2.1 | Filter Fan | | | |
| 4010D1100 | 14 | 4.2 x 4.2 x 2.1 | Filter Fan | | | |
| 4010D2000 | 9 | 4.2 x 4.2 x 2.1 | Filter Fan | | | |
| 4010D2100 | 14 | 4.2 x 4.2 x 2.1 | Filter Fan | | | |
| 4023A4000 | 13/15 | 4.2 x 4.2 x 3.1 | Filter Fan | | | |
| 4023A3000 | 15 | 4.2 x 4.2 x 3.1 | Filter Fan | | | |
| 4023D2000 | 29 | 4.2 x 4.2 x 3.1 | Filter Fan | | | |
| 4023D2100 | 35 | 4.2 x 4.2 x 3.1 | Filter Fan | | | |
| 4210A4000 | 39/50 | 5.9 x 5.9 x 2.9 | Filter Fan | | | |
| 4210A3000 | 39/50 | 5.9 x 5.9 x 2.9 | Filter Fan | | | |
| 4210A4100 | 35/41 | 5.9 x 5.9 x 2.9 | Filter Fan | | | |
| 4210A3100 | 41 | 5.9 x 5.9 x 2.9 | Filter Fan | | | |
| 4210D2000 | 28 | 5.9 x 5.9 x 2.9 | Filter Fan | | | |
| 4210D2100 | 38 | 5.9 x 5.9 x 2.9 | Filter Fan | | | |
| 4210D7000 | 28 | 5.9 x 5.9 x 2.9 | Filter Fan | | | |
| 4210D7100 | 38 | 5.9 x 5.9 x 2.9 | Filter Fan | | | |
| 4220A4000 | 27/29 | 5.9 x 5.9 x 2.9 | Filter Fan | | | |
| 4220A3000 | 29 | 5.9 x 5.9 x 2.9 | Filter Fan | | | |
| 4220A4100 | 28/31 | 5.9 x 5.9 x 2.9 | Filter Fan | | | |
| 4220A3100 | 31 | 5.9 x 5.9 x 2.9 | Filter Fan | | | |
| 4411A4000 | 65/77 | 8.0 x 8.0 x 3.8 | Filter Fan | | | |
| 4411A3000 | 77 | 8.0 x 8.0 x 3.8 | Filter Fan | | | |
| 4411A4100 | 65/79 | 8.0 x 8.0 x 3.8 | Filter Fan | | | |
| 4411A3100 | 79 | 8.0 x 8.0 x 3.8 | Filter Fan | | | |
| 4411D2000 | 59 | 8.0 x 8.0 x 3.8 | Filter Fan | | | |
| 4411D2100 | 71 | 8.0 x 8.0 x 3.8 | Filter Fan | | | |
| 4421A4000 | 59/65 | 8.0 x 8.0 x 3.8 | Filter Fan | | | |
| 4421A3000 | 65 | 8.0 x 8.0 x 3.8 | Filter Fan | | | |
| 4421A4100 | 59/65 | 8.0 x 8.0 x 3.8 | Filter Fan | | | |
| 4421A3100 | 65 | 8.0 x 8.0 x 3.8 | Filter Fan | | | |
| 4610D2000 | 132 | 9.8 x 9.8 x 4.9 | Filter Fan | | | |
| 4610D2100 | 132 | 9.8 x 9.8 x 4.9 | Filter Fan | | | |
| 4610D7000 | 132 | 9.8 x 9.8 x 4.9 | Filter Fan | | | |
| 4610D7100 | 132 | 9.8 x 9.8 x 4.9 | Filter Fan | | | |
| 4611D2000 | 82 | 9.8 x 9.8 x 4.9 | Filter Fan | | | |
| 4611D2100 | 88 | 9.8 x 9.8 x 4.9 | Filter Fan | | | |
| 4611D7000 | 82 | 9.8 x 9.8 x 4.9 | Filter Fan | | | |
| 4611D7100 | 88 | 9.8 x 9.8 x 4.9 | Filter Fan | | | |
| 4620A4000 | 135/159 | 9.8 x 9.8 x 4.9 | Filter Fan | | | |
| 4620A3000 | 159 | 9.8 x 9.8 x 4.9 | Filter Fan | | | |
| 4620A4100 | 144/171 | 9.8 x 9.8 x 4.9 | Filter Fan | | | |
| 4620A3100 | 171 | 9.8 x 9.8 x 4.9 | Filter Fan | | | |
| 4621A4000 | 62/71 | 9.8 x 9.8 x 4.4 | Filter Fan | | | |
| 4621A3000 | 71 | 9.8 x 9.8 x 4.4 | Filter Fan | | | |
| 4621A4100 | 65/71 | 9.8 x 9.8 x 4.4 | Filter Fan | | | |
| 4621A3100 | 71 | 9.8 x 9.8 x 4.4 | Filter Fan | | | |
| 4830A4000 | 306/340 | 12.8 x 12.8 x 6.3 | Filter Fan | | | |
| 4830A3000 | 340 | 12.8 x 12.8 x 6.3 | Filter Fan | | | |
| 4830A4100 | 324/359 | 12.8 x 12.8 x 6.3 | Filter Fan | | | |
| 4830A3100 | 359 | 12.8 x 12.8 x 6.3 | Filter Fan | | | |
| 4830A9000 | 317 | 12.8 x 12.8 x 6.3 | Filter Fan | | | |
| 4833A4000 | 395/447 | 12.8 x 12.8 x 6.3 | Filter Fan | | | |
| 4833A3000 | 447 | 12.8 x 12.8 x 6.3 | Filter Fan | | | |
| 4833A4100 | 424/483 | 12.8 x 12.8 x 6.3 | Filter Fan | | | |
| 4833A3100 | 495 | 12.8 x 12.8 x 6.3 | Filter Fan | | | |
| 4883A4000 | 483/547 | 12.8 x 12.8 x 6.3 | Filter Fan | | | |
| 4883A4003 | 483/547 | 12.8 x 12.8 x 6.3 | Filter Fan | | | |
| 4883A4103 | 483/547 | 12.8 x 12.8 x 6.3 | Filter Fan | | | |
| 4883A3000 | 483/547 | 12.8 x 12.8 x 6.3 | Filter Fan | | | |
| 4883A3003 | 483/547 | 12.8 x 12.8 x 6.3 | Filter Fan | | | |
| 4883A3103 | 483/547 | 12.8 x 12.8 x 6.3 | Filter Fan | | | |
| 4883A9000 | 483/547 | 12.8 x 12.8 x 6.3 | Filter Fan | | | |
| 4883A9003 | 483/547 | 12.8 x 12.8 x 6.3 | Filter Fan | | | |
| 6060A4000 | 247/288 | 12.8 x 12.8 x 3.7 | Roof Filter Fan | | | |
| 6060A3000 | 288 | 12.8 x 12.8 x 3.7 | Roof Filter Fan | | | |
| 513101 | 97/117 | 7 x 6.2 x 2.6 | Filter Box Fan | | | |
| 514101 | 97/117 | 7 x 6.2 x 2.6 | Filter Box Fan | | | |
| 523101 | 97/117 | 8.6 x 7.6 x 3.2 | Filter Box Fan | | | |
| 524101 | 97/117 | 8.6 x 7.6 x 3.2 | Filter Box Fan | | | |
| 543101 | 97/117 | 12.6 x 11.6 x 4.8 | Filter Box Fan | | | |
| 544101 | 97/117 | 12.6 x 11.6 x 4.8 | Filter Box Fan | | | |
| 4000000020 | - | 9.1 x 5.9 x 1.6 | Hose-proof protection hood | | | |
| 4000100020 | - | 9.7 x 6.9 x 2.2 | Hose-proof protection hood | | | |
| 4000200020 | - | 13 x 9.2 x 2.2 | Hose-proof protection hood | | | |
| 4000300020 | - | 15.4 x 11.1 x 3.3 | Hose-proof protection hood | | | |
| 4000400020 | - | 18.9 x 13.8 x 4.3 | Hose-proof protection hood | | | |