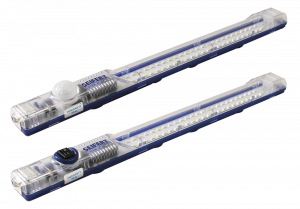 LED Enclosure Lights
Our StripLite LED enclosure lights have been especially designed to meet the criteria of illuminating control cabinets. They are available with an integrated On/Off switch or motion sensor. Our 400 Lm version has a universal voltage range (24 to 265 V) with one model. The more powerful 700 Lm version has a voltage range from 120 to 230 V AC. These strip lights are designed to be daisy-chained together for additional illumination. StripLite is energy efficient and maintenance free.
For more information on StripLite LED enclosure lights, download the brochure.

Please note that the light fittings are supplied without connector and without cable. These need to be ordered separately!
Click on model number to view information specific to that unit.
| Model | Voltage & Phase | Power Consumption (W) | Cable Length (in.) | Description | Mounting | Data Sheet | CAD Package | Manual |
| --- | --- | --- | --- | --- | --- | --- | --- | --- |
| 400000 | 24-265 DC/AC | 5 | - | Lights: 400Lm | Magnets, clips | | | |
| 400100 | 24-265 DC/AC | 5 | - | Lights: 400Lm | Magnets, clips | | | |
| 400400 | 24-265 DC/AC | 5 | - | Lights: 400Lm | Magnets, clips | | | |
| 400500 | 24-265 DC/AC | 5 | - | Lights: 400Lm | Magnets, clips | | | |
| 400076 | 120-230 AC | 8 | - | Lights: 700Lm | Magnets, clips | | | |
| 400176 | 120-230 AC | 8 | - | Lights: 700Lm | Magnets, clips | | | |
| 400702 | max. 250 AC | 0 | - | Female connector | Screw connection | | | |
| 400703 | max. 250 AC | 0 | - | Male connector | Screw connection | | | |
| 400711 | max. 250 AC | 0 | 118 | Pwr. cable - white | Plug | | | |
| 400712 | max. 250 AC | 0 | 118 | Pwr. cable -orange | Plug | | | |
| 400721 | max. 250 AC | 0 | 20 | Daisy chain cable - white | Plug | | | |
| 400722 | max. 250 AC | 0 | 20 | Daisy chain cable - orange | Plug | | | |
| 400731 | max. 250 AC | 0 | 40 | Daisy chain cable - white | Plug | | | |
| 400732 | max. 250 AC | 0 | 40 | Daisy chain cable - orange | Plug | | | |
| 400742 | max. 250 AC | 0 | 138 | Door contact - orange | Plug | | | |