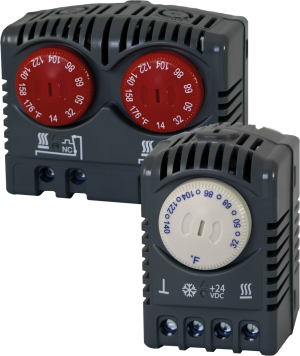 Thermal Controls & Accessories
Besides filter fans and cabinet heaters we offer a wide range of cabinet accessories. Thermostats and hygrostats from Seifert ensure an optimal climate inside your enclosures or cabinets.

Our thermostats are available either as normally closed: NC (red disk) for regulating heaters or for alarm signals when temperature is falling below the pre-set minimum value. The contact opens when temperature is rising. They are also available as normally open: NO (blue disk) for regulating filter fans, heat exchangers, Peltier cooling units or for switching alarm signals when the pre-set temperature limit has been exceeded. The contact closes when the temperature is rising.

We offer temperature and humidity sensors for monitoring of preset parameters to ensure that failures or malfunctioning of equipment can be avoided.
For more information on our Thermal Control and Accessory products,
download the brochure.
Click on model number to view information specific to that unit.
Model
Description
Setting Range
Mounting
Data Sheet
CAD Package
Manual
301005
Pre-set thermostat NC
OFF 10°C/50°F
ON 0°C/32°F
DIN rail 1.38
301010
Pre-set thermostat NC
OFF 15°C/59°F
ON 5°C/41°F
DIN rail 1.38
301020
Pre-set thermostat NC
OFF 25°C/77°F
ON 15°C/59°F
DIN rail 1.38
301030
Pre-set thermostat NC
OFF 35°C/95°F
ON 25°C/77°F
DIN rail 1.38
301040
Pre-set thermostat NC
OFF 50°C/122°F
ON 40°C/104°F
DIN rail 1.38
301050
Pre-set thermostat NC
OFF 60°C/140°F
ON 50°C/122°F
DIN rail 1.38
301111
Thermostat NC
-10 - 80 °C
Clips for DIN rail 1.38
301121
Thermostat NC
14 - 176 °F
Clips for DIN rail 1.38
301210
Twin thermostat NCNC
-10 - 80 °C
Clips for DIN rail 1.38
301211
Twin thermostat NCNC
14 - 176 °F
Clips for DIN rail 1.38
301220
Twin thermostat NCNC
-10 - 80 °C
Clips for DIN rail 1.38
301221
Twin thermostat NCNC
14 - 176 °F
Clips for DIN rail 1.38
301230
Twin thermostat NCNC
-10 - 80 °C
Clips for DIN rail 1.38
301231
Twin thermostat NCNC
14 - 176 °F
Clips for DIN rail 1.38
301320
Thermal f.b. thermostat
0 - 60 °C
Clips for DIN rail 1.38
301321
Thermal f.b. thermostat
32 - 140 °F
Clips for DIN rail 1.38
301410
Mechanical hygrostat
30% - 90% r.h.
Clips for DIN rail 1.38
301510
Electronic thermostat
0 - 60 °C
DIN rail 1.38
301511
Electronic thermostat
32 - 140 °F
DIN rail 1.38
301530
External temperature sensor
-
DIN rail 1.38
301611
Electronic hygrostat
30% - 90% r.h.
DIN rail 1.38
301630
External humidity sensor
-
DIN rail 1.38
7800000
Peltier controller Bimetallic temperature thermostat
Cooling: 32 to 140°F / Heating: 14 to 138°F
DIN rail