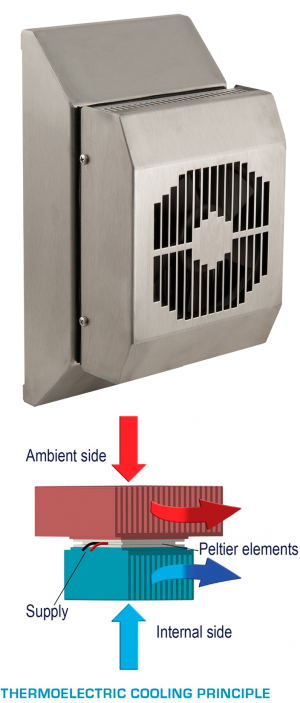 Thermoelectric Coolers
Seifert's line of thermoelectric enclosure coolers are designed to mount in virtually any position and especially in smaller cabinets. The thermoelectric elements create a temperature difference between the internal and ambient heat sinks, making internal air cooler while dissipating heat into the external environment. Fans help the transfer of convective heat from the heat sinks, which are optimized for maximum flow.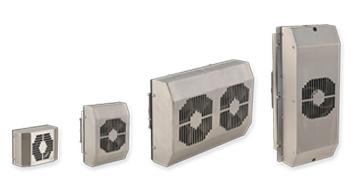 Our thermoelectric coolers are available in stainless steel 304 or 316 housing. They can be mounted in nearly every position (except roof mounting) because they do not have a compressor and have no moving parts. Depending on the mounting situation the condensation management may need to be considered and possibly adjusted. Seifert thermoelectric coolers can be ordered as recessed or external (with frame) versions. Seifert thermoelectric coolers are UL recognized and CE rated.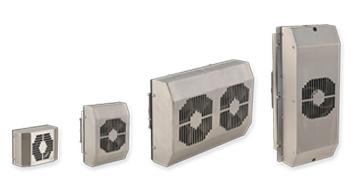 For more information on our line of Thermoelectric Coolers, download the brochure.
Click a category to view accessories for Seifert Thermoelectric Coolers:
Thermostats | Mounting Kits | Condensate Kits
Click on model number to view that unit's performance curve.
| Model | BTU/hr | Voltage & Phase | Air Vol. Flow - Ambient System / Unimpeded (cfm) | Air Vol. Flow - Cabinet System / Unimpeded (cfm) | Running Amps | Operating Temperature Range (°F) | Finish | Dimensions (in.) (h x w x d) | Data Sheet | CAD Package | Manual |
| --- | --- | --- | --- | --- | --- | --- | --- | --- | --- | --- | --- |
| 3030303 | 100 | 12VDC | 23 / 44 | 12 / 36 | 2.8 | -4 - 149 | Stainless steel AISI 304 (V2A) | 4.3 x 6.1 x 5 | | | |
| 3030305 | 100 | 12VDC | 23 / 44 | 12 / 36 | 2.8 | -4 - 149 | Stainless steel AISI 304 (V2A) | 8.3 x 6.2 x 5.2 | | | |
| 3050303 | 170 | 24VDC | 37 / 100 | 13 / 42 | 2.4 | -4 - 149 | Stainless steel AISI 304 (V2A) | 8.1 x 6.1 x 5.3 | | | |
| 3050305 | 170 | 24VDC | 37 / 100 | 13 / 42 | 2.4 | -4 - 149 | Stainless steel AISI 304 (V2A) | 11.9 x 6.2 x 5.4 | | | |
| 3102303 | 340 | 24VDC | 75 / 125 | 27 / 53 | 4.8 | -4 - 149 | Stainless steel AISI 304 (V2A) | 7.9 x 12 x 5.4 | | | |
| 3102305 | 340 | 24VDC | 75 / 125 | 27 / 53 | 4.8 | -4 - 149 | Stainless steel AISI 304 (V2A) | 11.9 x 12 x 5.5 | | | |
| 6105313 | 340 | 120VAC 60Hz | 75 / 125 | 27 / 53 | 1.1 | -4 - 149 | Stainless steel AISI 304 (V2A) | 11 x 13.8 x 6.5 | | | |
| 6105305 | 340 | 120-230VAC 60Hz | 75 / 125 | 27 / 53 | 1 | -4 - 149 | Stainless steel AISI 304 (V2A) | 11 x 13.8 x 6.5 | | | |
| 3152303 | 510 | 24VDC | 70 / 153 | 35 / 100 | 7 | -4 - 149 | Stainless steel AISI 304 (V2A) | 15.7 x 7.1 x 6.7 | | | |
| 3152305 | 510 | 24VDC | 70 / 153 | 35 / 100 | 7 | -4 - 149 | Stainless steel AISI 304 (V2A) | 19.7 x 7.4 x 6.9 | | | |
| 6155303 | 510 | 120 /230VAC 60Hz | 70 /153 | 35 / 100 | 1.4 @120 /0.7 @230 | -4 - 149 | Stainless steel AISI 304 (V2A) | 19.7 x 13 x 7.7 | | | |
| 6155305 | 510 | 120/230VAC 60 Hz | 70 /153 | 35 / 100 | 1.4 @120 /0.7 @230 | -4 - 149 | Stainless steel AISI 304 (V2A) | 19.7 x 13 x 7.9 | | | |
| 3200303 | 680 | 24VDC | 70 / 153 | 70 / 153 | 10.8 | -4 - 149 | Stainless steel AISI 304 (V2A) | 15.7 x 7.1 x 6.7 | | | |
| 3200305 | 680 | 24VDC | 70 / 153 | 70 / 153 | 10.8 | -4 - 149 | Stainless steel AISI 304 (V2A) | 19.7 x 7.4 x 6.9 | | | |
| 3200308 | 850 | 48VDC | 70 / 153 | 70 / 153 | 8.5 | -4 - 149 | Stainless steel AISI 304 (V2A) | 15.7 x 7.1 x 6.7 | | | |
| 3200310 | 850 | 48VDC | 70 / 153 | 70 / 153 | 6 | -4 - 149 | Stainless steel AISI 304 (V2A) | 19.7 x 7.4 x 6.9 | | | |
| 6205303 | 680 | 120/230VAC 60Hz | 62 / 153 | 90 / 153 | 1.9 @120 /1.0 @230 | -4 - 149 | Stainless steel AISI 304 (V2A) | 19.7 x 13 x 7.7 | | | |
| 6205305 | 680 | 120/230VAC 60Hz | 62 / 153 | 90 / 153 | 1.9 @120 / 1.0 @230 | -4 - 149 | Stainless steel AISI 304 (V2A) | 19.7 x 13 x 7.9 | | | |
| 6405313 | 1,370 | 120VAC 60Hz | 141 / 191 | 141 / 191 | 4.1 @120 | -4 - 149 | Stainless steel AISI 304 (V2A) | 23.6 x 17 x 8 | | | |
| 6405305 | 1,370 | 120/230VAC 60Hz | 141 / 191 | 141 / 191 | 4 | -4 - 149 | Stainless steel AISI 304 (V2A) | 23.6 x 17 x 8.2 | | | |
| 6805303 | 2,730 | 120/230VAC 60Hz | 280 / 383 | 280 / 383 | 7.7 @120 / 4.0 @230 | -4 - 149 | Stainless steel AISI 304 (V2A) | 38.3 x 20.2 x 8.3 | | | |
| 6805305 | 2,730 | 120/230VAC 60Hz | 280 / 383 | 280 / 383 | 7.7 @120 / 4.0 @230 | -4 - 149 | Stainless steel AISI 304 (V2A) | 38.3 x 20.2 x 8.3 | | | |
| 6405323 | 1,370 | 230v @ 60Hz | 141/191 | 141/191 | 2.3 | -4F - 149F | Stainless Steel 304(V2A) | 23.6" x 17" x 8" | | | |
| 3035303 | 100 | 24VDC | 39/75 | 20/62 | 2.2 | -4F - 149F | Stainless Steel 304 | 8.3" x 6.2" x 5.2" | | | |