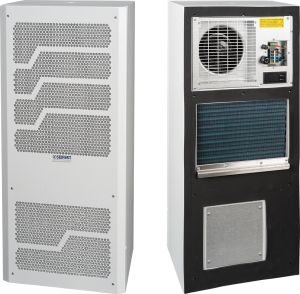 Progressive Series
Advanced Enclosure Air Conditioners
The Progressive Series is uniquely designed with these user-preferred features:

• Power Coated Steel – RAL 7035
• Type 4x - units available in 304 and 316 stainless steel
• Internal components are corrosion resistant
• Hermetically sealed cooling system
• Aluminum mesh filter
• R134a refrigerant
• Mounting flange hangers
• Digital programmable controller
• Controller default set to 95°F to cool – adjustable 68°F to 122°F
• High temp alarm preset to 131°F
• Operating temperature from -40°F to 131°F
• Cage clamp terminal connector

Every Progressive air conditioner comes with an integrated condensate evaporation package that is designed for drip-free operation. The digital controller with built-in display is viewable and accessible from inside the cabinet. A mounting flange allows for quick and easy installation.
To learn more about our Progressive Line of enclosure air conditioners,
download the brochure.
Click on model number to view that unit's performance curve.
| Model | BTU/hr | Voltage & Phase | Running Amps | Operating Temperature Range (°F) | Finish | Dimensions (in.) (h x w x d) | Data Sheet | CAD Package | Manual |
| --- | --- | --- | --- | --- | --- | --- | --- | --- | --- |
| 870315201USL | 1,000 | 120 | 3.1 | -40 - 140 | RAL 7035 | 15 x 9.85 x 9.85 | | | |
| 870300201USL | 1,000 | 230 | 1.5 | -40 - 140 | RAL 7035 | 15 x 9.85 x 9.85 | | | |
| 87031582USL | 1,000 | 120 | 3.1 | -40 - 140 | 304 Stainless Steel | 15 x 9.85 x 9.85 | | | |
| 87030082USL | 1,000 | 230 | 1.5 | -40 - 140 | 304 Stainless Steel | 15 x 9.85 x 9.85 | | | |
| 870615201USL | 2,050 | 120 | 3.7 | -40 - 140 | RAL 7035 | 15 x 9.85 x 9.85 | | | |
| 870605201USL | 2,050 | 230 | 2.1 | -40 - 140 | RAL 7035 | 15 x 9.85 x 9.85 | | | |
| 87061584USL | 2,050 | 120 | 3.7 | -40 - 140 | 304 Stainless Steel | 15 x 9.85 x 9.85 | | | |
| 87060584USL | 2,050 | 230 | 2.1 | -40 - 140 | 304 Stainless Steel | 15 x 9.85 x 9.85 | | | |
| 870810201USL | 2,700 | 120 | 4.8 | -40 - 140 | RAL 7035 | 23 x 12 x 12 | | | |
| 870800201USL | 2,700 | 230 | 2.5 | -40 - 140 | RAL 7035 | 23 x 12 x 12 | | | |
| 870820201USL | 2,700 | 400/460 2~ | 1.3 | -40 - 140 | RAL 7035 | 23 x 12 x 12 | | | |
| 87081082USL | 2,700 | 120 | 4.8 | -40 - 140 | 304 Stainless Steel | 23 x 12 x 12 | | | |
| 87080082USL | 2,700 | 230 | 2.5 | -40 - 140 | 304 Stainless Steel | 23 x 12 x 12 | | | |
| 87082082USL | 2,700 | 400/460 2~ | 1.3 | -40 - 140 | 304 Stainless Steel | 23 x 12 x 12 | | | |
| 871211201USL | 4,100 | 120 | 6.6 | -40 - 140 | RAL 7035 | 23 x 12 x 12 | | | |
| 871200201USL | 4,100 | 230 | 3.5 | -40 - 140 | RAL 7035 | 23 x 12 x 12 | | | |
| 871220201USL | 4,100 | 400/460 2~ | 1.8 | -40 - 140 | RAL 7035 | 23 x 12 x 12 | | | |
| 87121584USL | 4,100 | 120 | 6.6 | -40 - 140 | 316 Stainless Steel | 23 x 12 x 12 | | | |
| 87120584USL | 4,100 | 230 | 3.5 | -40 - 140 | 316 Stainless Steel | 23 x 12 x 12 | | | |
| 87122584USL | 4,100 | 400/460 2~ | 1.8 | -40 - 140 | 316 Stainless Steel | 23 x 12 x 12 | | | |
| 871510201USL | 5,100 | 120 | 7.5 | -40 - 140 | RAL 7035 | 35 x 15.6 x 12 | | | |
| 871500201USL | 5,100 | 230 | 3.3 | -40 - 140 | RAL 7035 | 35 x 15.6 x 12 | | | |
| 871520201USL | 5,100 | 400/460 2~ | 1.5 | -40 - 140 | RAL 7035 | 35 x 15.6 x 12 | | | |
| 87151082USL | 5,100 | 120 | 7.5 | -40 - 140 | 304 Stainless Steel | 35 x 15.6 x 12 | | | |
| 87150082USL | 5,100 | 230 | 3.3 | -40 - 140 | 304 Stainless Steel | 35 x 15.6 x 12 | | | |
| 87152082USL | 5,100 | 400/460 2~ | 1.5 | -40 - 140 | 304 Stainless Steel | 35 x 15.6 x 12 | | | |
| 872010201USL | 6,800 | 120 | 11 | -40 - 140 | RAL 7035 | 35 x 15.6 x 12 | | | |
| 872000201USL | 6,800 | 230 | 5.2 | -40 - 140 | RAL 7035 | 35 x 15.6 x 12 | | | |
| 872020201USL | 6,800 | 400/460 2~ | 2.5 | -40 - 140 | RAL 7035 | 35 x 15.6 x 12 | | | |
| 87201082USL | 6,800 | 120 | 11 | -40 - 140 | 304 Stainless Steel | 35 x 15.6 x 12 | | | |
| 87200082USL | 6,800 | 230 | 5.2 | -40 - 140 | 304 Stainless Steel | 35 x 15.6 x 12 | | | |
| 87202082USL | 6,800 | 400/460 2~ | 2.5 | -40 - 140 | 304 Stainless Steel | 35 x 15.6 x 12 | | | |
| 872510201USL | 8,500 | 120 | 13 | -40 - 140 | RAL 7035 | 35 x 15.6 x 12 | | | |
| 872500201USL | 8,500 | 230 | 6 | -40 - 140 | RAL 7035 | 35 x 15.6 x 12 | | | |
| 872520201USL | 8,500 | 400/460 2~ | 2.9 | -40 - 140 | RAL 7035 | 35 x 15.6 x 12 | | | |
| 87251082USL | 8,500 | 120 | 13 | -40 - 140 | 304 Stainless Steel | 35 x 15.6 x 12 | | | |
| 87250584USL | 8,500 | 230 | 6 | -40 - 140 | 316 Stainless Steel | 35 x 15.6 x 12 | | | |
| 87252082USL | 8,500 | 400/460 2~ | 2.9 | -40 - 140 | 304 Stainless Steel | 35 x 15.6 x 12 | | | |
| 874000201USL | 13,600 | 230 | 9 | -40 - 140 | RAL 7035 | 41 x 17.9 x 14.6 | | | |
| 874020201USL | 13,600 | 400/460 3~ | 3.7 | -40 - 140 | RAL 7035 | 41 x 17.9 x 14.6 | | | |
| 87400082USL | 13,600 | 230 | 9 | -40 - 140 | 304 Stainless Steel | 41 x 17.9 x 14.6 | | | |
| 87402584USL | 13,600 | 400/460 3~ | 3.7 | -40 - 140 | 316 Stainless Steel | 41 x 17.9 x 14.6 | | | |
| 876225201USL | 21,170 | 400/460 3~ | 6.2 | -40 - 131 | RAL 7035 | 44.69 x 17.9 x 15.35 | | | |
| 87622082USL | 21,170 | 400/460 3~ | 6.2 | -40 - 131 | 316 Stainless Steel | 44.69 x 17.9 x 15.35 | | | |