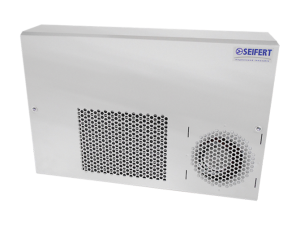 SlimLine Vario Series
Variable Speed Enclosure Cooling
The compact compressor can be adjusted to the required cooling capacity with variable speed via a controller, therefore only consumes the amount of electricity that is actually required to cool the current power losses.
By continuously adapting the cooling capacity, a very constant enclosure temperature is achieved which means the electronic components and the cooling unit are significantly less stressed. In addition, the formation of condensate inside the enclosure is minimized.
All of this leads to higher operational reliability , longer service life and a energy savings of more than 70%.
Seifert variable speed cooling air conditioners set a new standard of "cooling performance". The micro channel condenser uses significantly less refrigerant and thus a reduction in the CO₂ equivalent.
Click on model number to view that unit's performance curve.
| Model | BTU/hr | Voltage & Phase | Running Amps | Operating Temperature Range (°F) | Finish | Dimensions (in.) (h x w x d) | Data Sheet | CAD Package | Manual |
| --- | --- | --- | --- | --- | --- | --- | --- | --- | --- |
| 862504001 | 8,700 | 115 - 250 | 9.2 / 4.6 | -40 - 140 | RAL 7035 | 53.1 x 15.6 x 8.3 | | | |