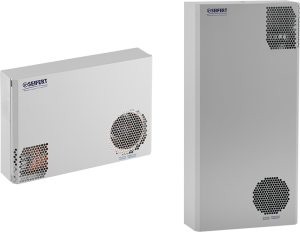 SlimLine Series
Filterless Enclosure Air Conditioners
The SlimLine Series of enclosure air conditioners integrates several unique technologies, including maximum power to size ratio.
Seifert's proprietary condenser design provides improved cooling performance and ensures reliability in demanding applications. The SlimLine Series manages condensate with a process that results in evaporation without consuming additional power. Condenser is specifically designed to maintain performance, without maintenance, in environments
where dirt and dust are present.
The units can be externally or recessed mounted and are only 4.5 inches deep. The SlimLine Series are the slimmest air conditioners on the market.
For more information on our SlimLine Series of enclosure air conditioners, download the brochure.
Click a category to view accessories for SlimLine Air Conditioners:
Click on model number to view that unit's performance curve.
| Model | BTU/hr | Voltage & Phase | Running Amps | Operating Temperature Range (°F) | Dimensions (in.) (h x w x d) | Data Sheet | CAD Package | Manual |
| --- | --- | --- | --- | --- | --- | --- | --- | --- |
| 42660001 | 1,130 | 230 | 1.5 / 1.6 | 50 - 122 | 20.5 x 10.6 x 4.3 | | | |
| 42661001 | 1,130 | 120 | 3.5 | 50 - 122 | 20.5 x 10.6 x 4.3 | | | |
| 42670001 | 1,450 | 230 | 1.6 / 1.5 | 50 - 122 | 13.4 x 20.5 x 4.3 | | | |
| 42671001 | 1,450 | 120 | 3.2 | 50 - 122 | 13.4 x 20.5 x 4.3 | | | |
| 42681001 | 1,450 | 120 | 3.2 | 50 - 122 | 20.5 x 12.6 x 4.3 | | | |
| 42690001 | 1,770 | 230 | 2.4 / 2.6 | 50 - 122 | 23.6 x 12.6 x 4.3 | | | |
| 42691001 | 1,770 | 120 | 4.4 | 50 - 122 | 23.6 x 12.6 x 4.3 | | | |
| 42700001 | 2,050 | 230 | 2.3 / 2.5 | 50 - 122 | 31.89 x 15.55 x 5.71 | | | |
| 42701001 | 2,050 | 120 | 5.2 | 50 - 122 | 31.89 x 15.55 x 5.71 | | | |
| 42710001 | 3,020 | 230 | 3.3 / 3.7 | 50 - 131 | 38.58 x 15.55 x 5.71 | | | |
| 42711001 | 3,020 | 120 | 7.2 | 50 - 131 | 38.58 x 15.55 x 5.71 | | | |
| 42712001 | 3,020 | 380-415 3~ / 400-460 3~ | 1.4 | 50 - 131 | 38.58 x 15.55 x 5.71 | | | |
| 42720001 | 4,090 | 230 | 3.4 / 4.1 | 50 - 131 | 49.21 x 15.55 x 5.71 | | | |
| 42721001 | 4,100 | 120 | 8 | 50 - 131 | 49.21 x 15.55 x 5.71 | | | |
| 42722001 | 4,090 | 380-415 3~ / 400-460 3~ | 1.6 / 1.5 | 50 - 131 | 49.21 x 15.55 x 5.71 | | | |
| 42740001 | 5,120 | 230 | 4.3 / 5.5 | 50 - 131 | 61.02 x 15.55 x 5.71 | | | |
| 42741001 | 4,780 | 120 | 8.8 | 50 - 131 | 61.02 x 15.55 x 5.71 | | | |
| 42742001 | 5,120 | 380-415 3~ / 400-460 3~ | 1.8 / 2.0 | 50 - 131 | 61.02 x 15.55 x 5.71 | | | |
| 4535000 | 3,240 | 230 | 3.0 / 3.2 | 50 - 131 | 10.5 x 19 x 22.2 | | | |
| 4535100 | 3,240 | 120 | 9 | 50 - 131 | 10.43 x 17.48 x 22.24 | | | |