Air to Water Heat Exchangers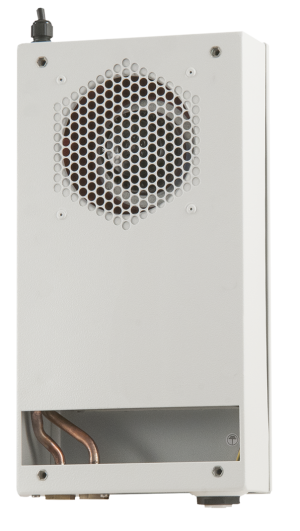 Air to Water Heat Exchangers
Our compact air-water heat exchangers can be used if a cold water supply is available. A typical application is the dissipation of high power losses from control cabinets. All heat exchangers are available as internal or external units, roof mounted and 19-inch rack units.

Our units are available as 19-inch plug-in models with minimal depth, as well as recessed, top and side mount. These industry proven heat exchangers are available from 2,390 BTU/hr up to 18,000 BTU/hr @95°F cabinet / 50°F water. With our modular system setup we can even reach performances of up to 135,000 BTU/hr.
Click on model number to view that unit's performance curve.
| Model | BTU/hr | Voltage & Phase | Air Vol. Flow Unimpeded (cfm) | Running Amps | Operating Temperature Range (°F) | Finish | Dimensions (in.) (h x w x d) | Data Sheet | CAD Package | Manual |
| --- | --- | --- | --- | --- | --- | --- | --- | --- | --- | --- |
| 2300010 | 1,090 | 230 AC | 43/127 @ 50 Hz 50/141 @ 60 Hz | 0.24 | 34 - 149 | RAL 7035 | 11.93 x 6.02 x 3.31 | | | |
| 2300110 | 1,090 | 120 AC | 50/141 | 0.24 | 34 - 149 | RAL 7035 | 11.93 x 6.02 x 3.31 | | | |
| 2300310 | 1,090 | 24 DC | 43/222 | 0.78 | 34 - 149 | RAL 7035 | 11.93 x 6.02 x 3.31 | | | |
| 2114003 | 2,220 | 230 AC | 105/271 @ 50 Hz 117/315 @ 60Hz | 0.4 | 34 - 162 | RAL 7035 | 15.75 x 8.35 x 3.15 | | | |
| 2114103 | 2,220 | 120 AC | 117/333 | 0.8 | 34 - 162 | RAL 7035 | 15.75 x 8.35 x 3.15 | | | |
| 2114203 | 2,220 | 400 AC | 105/271 @ 50 Hz117/315 @ 60Hz | 0.15 | 34 - 162 | RAL 7035 | 15.75 x 8.35 x 3.15 | | | |
| 2114303 | 2,220 | 24 DC | 112/330 | 2 | 34 - 162 | RAL 7035 | 15.75 x 8.35 x 3.15 | | | |
| 2114403 | 2,220 | 48 DC | 112/330 | 0.8 | 34 - 162 | RAL 7035 | 15.75 x 8.35 x 3.15 | | | |
| 2114014 | 2,390 | 230 AC | 105/338 @ 50 Hz117/368 @ 60 Hz | 0.4 | 34 - 162 | RAL 7035 | 24.88 x 8.35 x 3.15 | | | |
| 2114114 | 2,390 | 120 AC | 117/368 | 0.8 | 34 - 162 | RAL 7035 | 24.88 x 8.35 x 3.15 | | | |
| 2114214 | 2,390 | 400 AC | 105/338 @ 50 Hz117/368 @ 60 Hz | 0.15 | 34 - 162 | RAL 7035 | 24.88 x 8.35 x 3.15 | | | |
| 2114010 | 4,090 | 230 AC | 105/338 @ 50 Hz117/368 @ 60 Hz | 0.4 | 34 - 162 | RAL 7035 | 35.08 x 8.35 x 3.15 | | | |
| 2114110 | 4,090 | 120 AC | 117/368 | 0.8 | 34 - 162 | RAL 7035 | 35.08 x 8.35 x 3.15 | | | |
| 2114210 | 4,090 | 400 AC | 105/338 @ 50 Hz117/368 @ 60 Hz | 0.15 | 34 - 162 | RAL 7035 | 35.08 x 8.35 x 3.15 | | | |
| 2125110 | 8,530 | 120 AC | 311/765 | 1.7 | 34 - 162 | RAL 7035 | 36.85 x 10.31 x 5.77 | | | |
| 2149010 | 16,380 | 230 AC | 535/839 @ 50 Hz576/883 @ 60 Hz | 1.3 | 34 - 161 | RAL 7035 | 55.12 x 18.11 x 9.53 | | | |
| 2149110 | 16,380 | 120 AC | 576/883 | 2.6 | 34 - 161 | RAL 7035 | 55.12 x 18.11 x 9.53 | | | |
| 2149210 | 16,380 | 400 AC | 535/839 @ 50 Hz576/883 @ 60 Hz | 0.35/0.45 | 34 - 161 | RAL 7035 | 55.12 x 18.11 x 9.53 | | | |